Our Team
Within our CELT, we count all faculty and staff who participate in our programs as part of our Center. The people listed here help to develop, assess, and manage programming to ensure quality and effective teaching and learning practices are available for our university.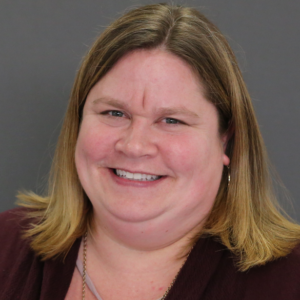 ​Sarah Haugen is the Interim Director of CELT.  Sarah has been an education professional for 22 years, starting her career as a K-12 public school teacher then advancing to become an instructional coach. She has served Saint Mary's for 16 years, as a facilitator and most recently as the Associate Director of the M.Ed. in the Teaching and Learning program since 2016.  Other Saint Mary's work include advising the course/faculty observation process in the School of Education and being a part of the Professional Development Initiatives program. Sarah possesses a wealth of knowledge in coaching thinking, community building and faculty development, having led the M.Ed. annual spring conference which hosts hundreds of learners, facilitators and alumni, who gather to support one another in their teaching practice.
Spencer Wanlass has extensive experience as an Instructional Technologist in both in-person and online settings. Prior to Saint Mary's, Spencer supported a team of Instructional Technologists through multiple LMS transitions, most recently converting from D2L Brightspace to Canvas. Throughout Spencer's career, she has been involved with thousands of individual course migrations while managing multiple teams and task forces to accomplish instructional needs and learning initiatives.

Matt Isaia serves as an Instructional Technologist on the Minneapolis campus. Prior to Saint Mary's, Matt has held leadership roles in corporations and universities. His background starts with a BA in English from DePaul University. In 2017, Matt earned his Master's degree in Library and Information Services (MLIS) from Dominican University. Matt is passionate about online pedagogy, educational technology, teaching information literacy and research skills.
Garey Gill serves as an Instructional Technologist on the Twin Cities Campus.  With a wealth of experience in education, training and development, Garey has operated various roles including classroom teacher, administrator, trainer and instructional technologist. Garey thrives with new challenges, and his innovative approach to systems and improvement, along with his desire to learn makes him a true asset to the team.  His background includes a B.A. in History Education, and a M.A in Instructional Technology.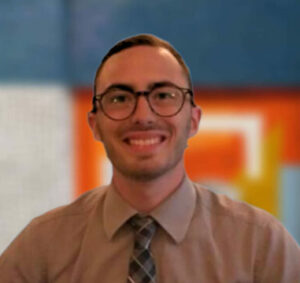 Joe Gargaro serves as an Instructional Technologist on the Twin Cities campus. Joe worked as a Middle School Social Studies Teacher, primarily in Catholic Schools. Joe holds a BA in Social Studies Education from St. Mary's University in 2017. In 2020, he earned his Master's degree in Educational Leadership from St. Mary's University. Joe is passionate about educational equity, learner engagement, and educational technology.
College Faculty Development Committee
The mission of the Faculty Development Committee is to foster the healthy professional development of the faculty at large. To accomplish this goal, the committee facilitates and provides opportunities for the professional growth of each faculty member. It constructively reviews and makes recommendations regarding faculty proposals for sabbaticals, grants, and other development opportunities as are made institutionally available; recommends guidelines for faculty development; suggests institutional changes promoting professional development; cultivates collaborative learning opportunities such as book discussion groups, workshops, and teaching circles; and encourages public sharing of individual faculty development efforts to provide opportunities for faculty to improve as educators, scholars, and collegial members of a Lasallian academic community.
2022-23 College Committee Members
Lori Charron, At-large Member (tenured), 2021-2023
Niffer Pflager, At-large Member, 2022-2024
Robyn Wangberg, At-large Member, 2022-2023 
Crystal Carlson, At-large Member, 2022-2024
Tricia Klosky, At-large Member (tenured), 2022-2024
SGPP Faculty Development Committee
The faculty development committee serves as advisors and facilitators for our CELT programs. This 7 person committee meets twice a month, and it includes representatives from the library, writing center, and each academic school and degree level.  The purpose of this committee is to facilitate development and maintenance of high-quality term and adjunct faculty by:
creating initiatives that support teaching and learning in the Lasallian Catholic tradition

coordinating with CELT ongoing faculty development activities

building a community of teacher-scholars within the term and adjunct faculty

making recommendations for the awarding of internal grant funds and sabbaticals

convening and maintaining an advisory committee of adjunct faculty members.
2022-23 SGPP Committee Members
Tracy Lysne–Chair 
Core member: M.Ed. in Teaching and Learning Program
Maima Fant
Core member: Masters of Social Work Program
Greta Poser
Core member: Geographic Information Science Program
Rustin Wolfe
At-Large Core member: Ed.D. in Leadership Program
Kathryn LaBore
At-Large Core member: Psy.D. in Counseling Psych Program
Resource Members:
Nicola Imbracio–Director of Curriculum and Assessment

Molly Blake–

Library

Alex Urquart–Writing Center

Sarah Haugen–CELT
CELT Faculty Advisory Committee
This committee consists of 6-7 adjunct faculty, who actively teach in Saint Mary's programs. Committee members meet twice a year, providing input and guidance to ensure that the faculty development (CELT) programs meet the needs of Saint Mary's adjunct faculty. The membership rotates every 2 years. Contact us if you're interested in serving on this committee.
Members
Alisa DiSalvo
Accounting Program – Adjunct Assistant Professor
Bill Handschin
Counseling and Psychological Services Program – Adjunct Associate Professor
Carmen Avendano
Marriage & Family Therapy Program – Adjunct Assistant Professor
Kevin Hanson
GIS Program – Adjunct Instructor
Nick Ruiz
Counseling and Psychological Services Program – Adjunct Program Professor