Online Instructor Certification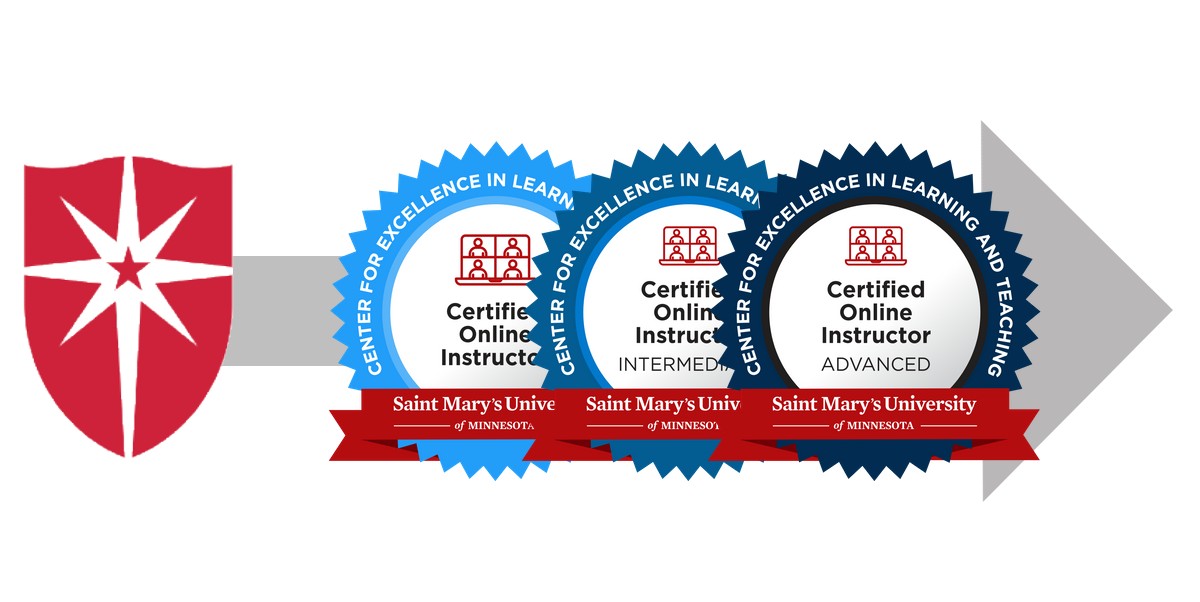 Our Online Instructor Certification courses ensure that all Saint Mary's instructors are up-to-date on the best practices in fully online education so they can deliver fully online courses, or rapidly pivot courses to an online modality when necessary. This series is a great opportunity to learn the basics of online teaching and learning and elements to include when designing weekly engagement.
We offer three levels of certification:
The courses are interactive, model effective online learning practices, and move through three progressive levels: introductory, intermediate, and advanced online teaching.
Introductory: covers the shift from face-to-face to online teaching, building a sense of community through asynchronous interaction, creating instructor presence online, using the online course shell, and introductory online teaching skills
Intermediate: covers applying learning theories to the online environment, group work, quality in online course design and teaching, and advanced pedagogical concepts
Advanced: covers research in online teaching and learning, research about the brain and memory, advanced strategies to promote learner engagement, creating engaging presentations, personalized learning paths, and future trends in online learning.
Expectations for Engagement: 
The Online Instructor Certification courses are asynchronous, with an anticipated workload of between 2-4 hours per week. It is an expectation to login to Canvas and engage in asynchronous activities multiple times throughout the week. These activities are designed to model relationship and community building to enhance trusting teacher-student and student-student relationships.  Participants will be asked to interact with, provide feedback, engage in online conversation using various engagement tools, and other interactive activities with other members of the course. There are no required in-person or synchronous virtual meeting sessions, however, the instructor may offer them with the option to attend.
All certification courses are taught by Sarah Haugen, M.Ed. Sarah has served Saint Mary's for 16 years, serving in the capacity of the Associate Director of the M.Ed. in the Teaching and Learning program from 2016-22 before transitioning to become the Associate Director of the CELT. Sarah possesses a wealth of knowledge in the art and science of learning and teaching, course design and faculty development. She is passionate about cultivating the capacity for others to grow in their teaching skills.
Once you complete the initial course you can expect to be:
excited about being an online educator
equipped with basic skills in instructional design
able to teach an online course with basic skills unique to that environment
aware of what quality online courses look like
aware of what quality online teaching looks like through Angela's modeling
less anxious about the online environment
acquainted with the foundations of Catholic, Lasallian virtue education and how that applies to online teaching
The courses are designed to enable faculty to apply online teaching strategies in any learning management system. However, the course will be offered in Saint Mary's Canvas LMS to give instructors experience using the platform from a student perspective.