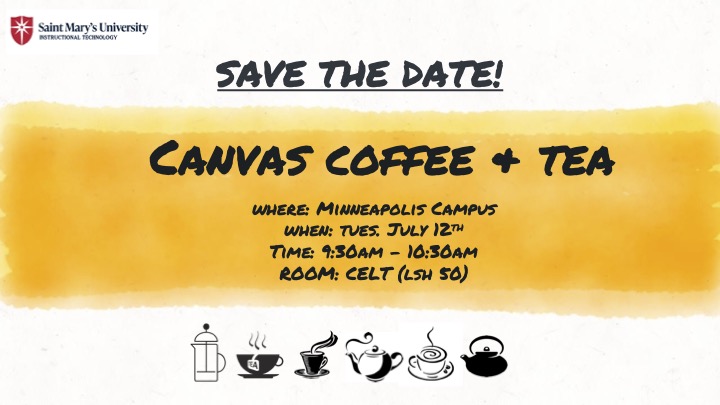 Canvas Coffee & Tea is a new, on-campus initiative (Minneapolis now, Winona coming soon)  that focuses on building relationships between Faculty/Instructors and the Instructional Technology and CELT teams. Enjoy a cup of coffee, tea as well as some light snacks to...
read more
When will faculty and staff have Canvas training?
Training opportunities will start with the self-paced training course in Canvas which will be live on September 23. The first live training opportunity will be September 30. All of these will be promoted on this site, as well as CELT's trainings and workshops page.
When do we get access to Canvas?
You have
access to Canvas now
! Use your username and password as you would log in to Blackboard. If the username doesn't work, try putting it in ALL CAPS.
Will we have assistance migrating our courses to Canvas?
Yes. A service we are excited to announce is K16, a scaffolded migration solution. The Canvas migration team, along with the K16 migration team, will assist Saint Mary's in more quickly moving the most robust courses from Blackboard into Canvas. (We will migrate simpler courses ourselves.) Consider the K16 vendor as a professional "moving team" like you would hire to move your heaviest belongings from one home to another. They will "pack and move" items to the new home (the Canvas course) and set the moving boxes and furniture in the correct rooms (the Canvas course modules). Our staff and faculty may have to unpack some of the boxes (make adjustments to the Canvas course).  We have a year-long agreement with K16 to assist us with moving designated courses throughout the entire migration process. Our initial goal is to use K16 to migrate 400 Blackboard courses by Fall. Check out this video to learn more:
https://vimeo.com/344888156
In addition to K16's services, we will provide internal workshops to help you polish up your migrated courses.
When will we migrate our Engage courses to Canvas?
Our fully online courses that are currently offered in Engage will be migrated to Canvas beginning in the Spring semester.  We have developed a course-by-course migration plan that begins with all first-semester courses our newly enrolled students would need to complete in Spring 2021.  All second-semester courses will be migrated by Summer 2021, third-semester courses will migrate in Fall 2021, and any remaining courses will move to Canvas in Spring 2022.
What is Ally and why is it important?
Ensuring accessibility was an important aspect of the Task Force considerations. The Ally solution is a tool that supports LMS content creators to ensure that the materials they are developing are accessible. Ally scans the file and produces an accessibility score, allowing creators to make changes as needed. Ally also allows administrators to monitor institution-wide accessibility improvement over time.  And Ally provides alternative formats like audio text, language translation, and Braille.
Will faculty be delivering courses in Canvas for the Fall 2020 semester?
Yes, but only a few for the Fall 2020 semester. As departments and programs choose to start offering courses in Canvas, more and more will go live, starting in the SGPP. Our goal is to have all courses migrated within one year.
Will we have to learn to use a new plagiarism tool?
Yes, the university has been using two different plagiarism tools (Safe Assign and Vericite) in the two LMS platforms.  Our new tool will be
TurnItIn
.
Who is on the LMS task force?
Executive Sponsors:
Provost and Dean of Faculties – Brian Schmisek
Senior Vice President for Finance and Operations – Ben Murray
Membership:
Vice Provost – Online Strategy and Programs – Andrea Carroll-Glover (Chair)
Director of IT and User Services – Tianna Johnson (Co-Chair)
Associate Professor SGPP – Susan Hines
Interim Director of CELT – Adam Potthast
Associate Professor, Resource Analysis-Analyst SGPP- Greta Poser
Director of Online Operations, Professor SGPP – Holly Tapper
Director of Instructional Technology SGPP – Robert Andersen
Director of Instructional Technology Winona – Jason Spartz
Program Director M.Ed in Learning Design and Technology SGPP – Nancy Van Erp
Assistant Professor Winona – Zakary Mayo
Master of Business Admin Program, Adjunct Associate Professor SGPP – Amy Jauman
Assistant Professor Winona – Crystal Carlson
If Canvas is more expensive, why did we choose to go this route during financially challenging times?
The transition to a single LMS will ultimately provide a better and most cost-effective means for delivering online courses to our undergraduate and graduate students. Supporting one system (rather than the current two systems we support — Engage and Blackboard) will provide opportunities to streamline resources while providing an exceptional service to our students. The LMS team explored multiple LMS tools, considered the needs of the university, and ultimately determined Canvas was the best fit for the organization's current and future goals, which include the need for enhanced mobile learning, and compatibility with certification and badging platforms.
What is the proposed timeline for the SGPP/Winona Blackboard to Canvas migration for 2020-2021?